Umbrella Dream Girl
Creative Silhouettes by Marco Ciofalo
Digital Images, Illustrations, Artworks for sale. Immediate download
Marco Ciofalo | Products & Services
A dreaming girl with an umbrella. A beautiful sunset. Nature, flowers, butterflies. A few clouds and a flock of birds in the distance. Warm colors.
Amazing digital silhouettes artworks for sale. Dozens of beautiful unique creations. Buy and download pictures to use on your website or print on a personal t-shirt or a personal canvas. Our service provides excellent resolution pictures and illustrations by digitally delivering it to you immediately after you purchase it. All pictures are made by the author Marco Ciofalo.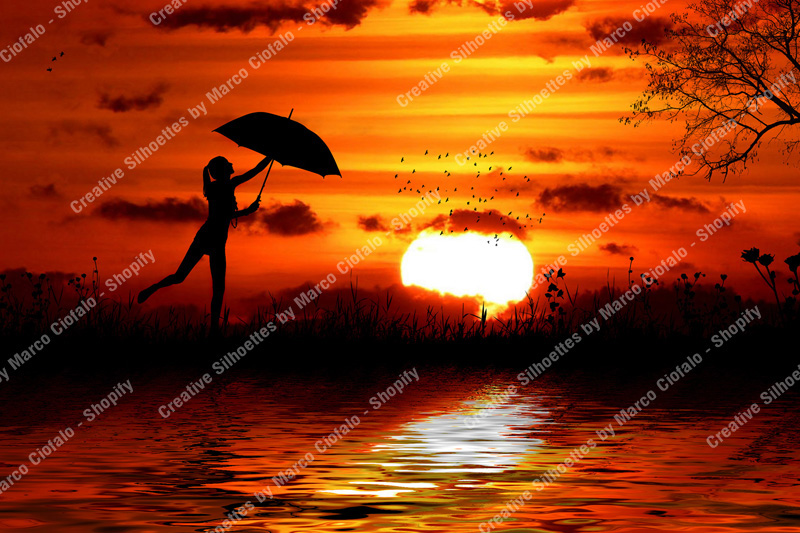 The license allows you to use the resource anywhere in the world and the license does not expire. You can use the resource in prints, presentations, Web sites and even in social media sites. However, you can not deploy digital resource by posting it online or by any other means that guarantees to third parties to use the resource without personally purchase the license.
With the basic license is also prohibited to create products for resale where the primary value of the product is given by the image. For example, you can not use the resource to create a t-shirt, a cup or a poster, which would be purchased mainly for the image printed on it.
If you are interested in an extended license feel free to contact us for more information